Today's guest is Jenn @ Rook No. 17.
I gotta tell ya…I had trouble coming up with an introduction for Jenn. First of all, you probably know her already. And second of all, her supportiveness, friendliness, creativity and talent are beyond simple words. It is such an honor to have her as a guest today.
Jenn let me pick from her lovely tutorials to post on my blog. I saw this wreath andi instantly thought it was so her and that you would enjoy it too. Even though it's a July 4 wreath, I can totally see it with a holiday theme as well…I imagine it next to my Christmas tree with vintage Santa photos or other holiday clipart that's sure to be out there somewhere, together with some Christmas hymns or quotes. President's Day is also around the corner from the holidays, and this wreath would be so educational for little ones (and big ones alike).
Enjoy the tutorial!
******************************************
Hello Silly Pearl fans! I'm Jenn ~ the crafter, baker and glitter shaker behind the creative nesting place, Rook No. 17 where I share my original recipes, vintage inspired crafts and cake decorating tips and tutorials. I'm delighted that Steph has invited me here today to share my personal twist on a Blogland favorite -- the book page wreath.
The Ephemera Cameo Wreath was born in the wee hours one night before our annual 4th of July Chili Cook-off. I had decided not to stress over decorations, but changed my mind around midnight. Forced to use only what I had on hand: a handful of old book pages, a scanner, my trusty glue gun, and some inspiration from "Poor Richard", I put together an aptly themed wreath to welcome our guests at the door.
Imagine an Ephemera Cameo Wreath with photos of your ancestors, your favorite authors, great thinkers, famous women, poets, artists, or silhouettes of your family!
If you'd like to use the images of the US Presidents, you can download them for free here:
Presidents
Ephemera Cameo Wreath Tutorial
The process, as you might imagine, is simple: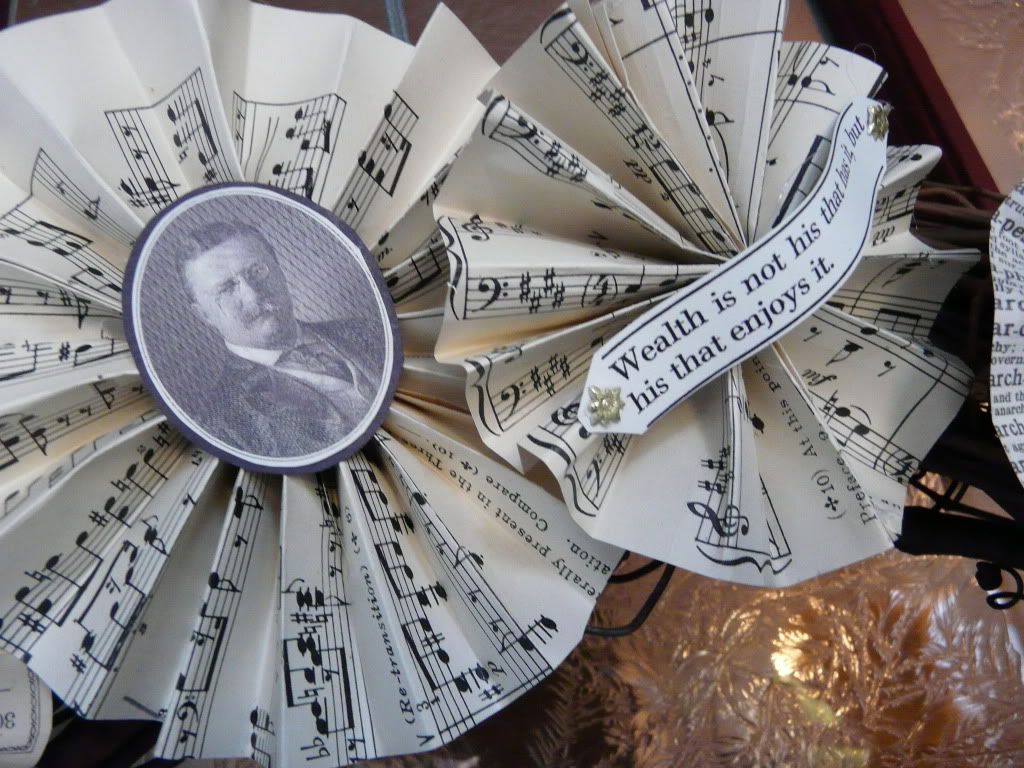 1) Find yourself a wreath to use as your "canvas". I used a grapevine wreath leftover from Christmas crafts, but you could use foam or wire as well.
2) Make paper rosettes in different widths and sizes. I used three different types of paper from old books that I purchased, already falling to pieces, at garage sales. I like the contrast of the different shades of aging provided by the dictionary pages, sheet music pages, and school primer pages. To make a paper rosette out of a single piece of paper, your paper will need to be at least three times as long as it is wide. For smaller paper (like those I used from the school primer), make two separate fan folds and glue together for a full rosette.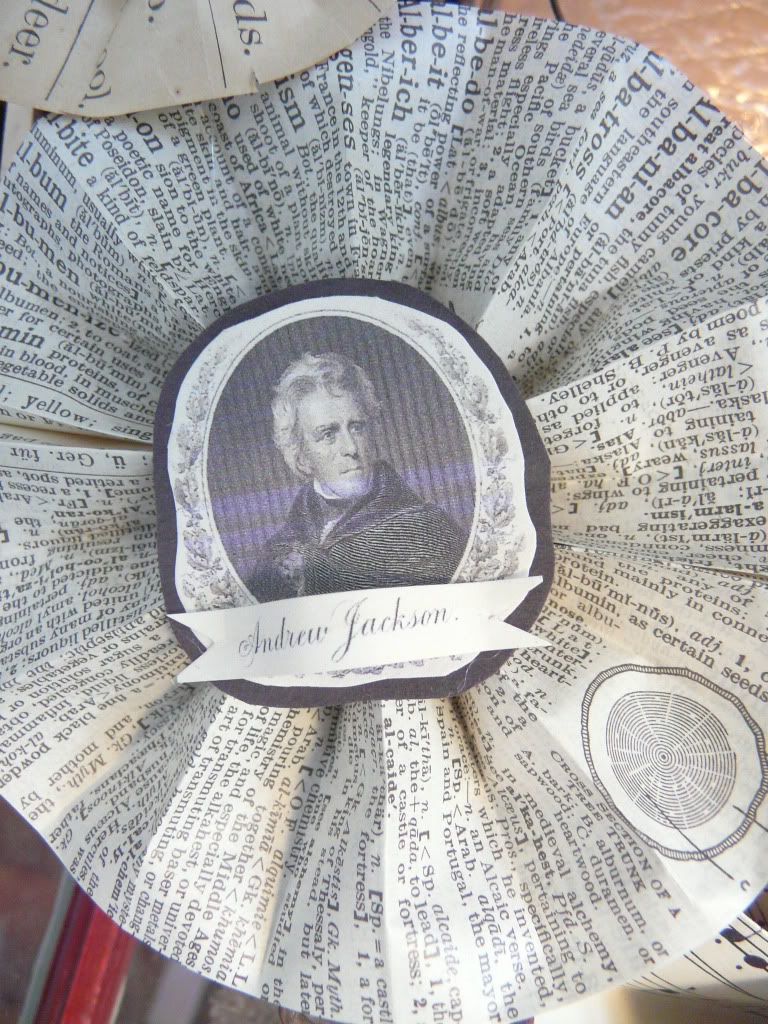 3) Dry-fit the rosettes around the wreath to achieve good proportion and layout. When you're satisfied with the design, glue in place.
4) Print black and white bust portraits on watercolor paper (or other medium weight ivory colored paper). Trim and then mount on black paper. Trim, leaving a thin black border.
5) Glue "Cameos" in the centers of some of the rosettes.
6) Print names of each person on same paper as the cameos. Trim to create thin banners and v-cut the ends. Optional: embellish with small Dresden accents. Bend to give dimension. Glue each side of name banner just beneath Cameo, allowing the center to bow out.
7) Optional: Print quotes or anecdotes appropriate to your subject. For my wreath, I chose some clever, witty, and inspiring quotes from Ben Franklin's
Poor Richard's Almanack
. Trim, v-cut, bow and glue in similar fashion to the name banners.
***************************************
Oh I can't wait to make one of these wreaths! When I go thrifting today, I'll be on the lookout for old books (I passed one up at a yard sale last month…d'oh!).
You'll find lots of inspiration for holidays (and any other day) on Jenn's blog:
I made Jenn's printable Chinese New Year red envelopes last year, and were a huge hit with my tween/teen niece and nephew. I've grown weary of the in-store ones (as have they) and these were just perfect. So how did I know they were a hit? When I gave it to them, they didn't mutter "Thanks Goo-Jay (i.e. my dad's younger sister)" and stash it in their pockets as usual. This time, they said "Oh COOL! Thanks Goo-Jay!" and kept looking at them.
And her baking skills are beyond amazing. These Fondant Toadstools are so sweet, and she breaks it all down with a tutorial.
I could go on and on and post more but I will let you explore and enjoy her other tutorials and cake art on her blog.
Jenn, thank you so much for being here today!