I was going to formally introduce The Silly Pearl to the craft world next week when I finish up a new project, but it looks like today I'm doing a pre-announcement!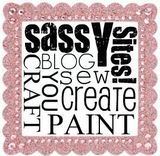 One of my favorite craft blogs, Sassy Sites, is so kindly hosting a new craft blog link-up today. I just wanted to give Marni a shout-out of thanks, for supporting those of us starting new craft blogs!
If you're visiting from Sassy Sites, welcome to The Silly Pearl! My blog is about 20 days old, so it's still in baby stages. I am currently bringing over my tutorials from my personal blog, so that's what you'll mainly see as of today. So if you have visited Silly Precious Piggies before, I'm sorry you will see nothing new today! But if you haven't, then I hope you'll enjoy my previous tutorials, and stay tuned for more coming soon.
I am off to visit some fellow new craft blogs on the linky.Thank you again to Marni for the support!
{PS I decided to do a pre-announcement on Silly Precious Piggies just now too. So if you've clicked on over from my old blog, hello!!!!!!! So glad you could stop by my new blog! I will have more details on the who what where why how of my two blogs, very soon.}